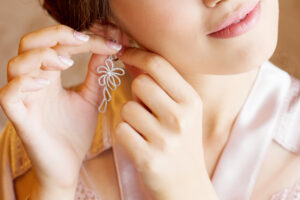 When it comes to jewelry, diamond earrings are a timeless and coveted accessory. In Asia, where luxury and elegance are highly valued, there are certain diamond earring styles that have gained immense popularity and demand. In this article, we will explore some of the most sought-after diamond earrings in Asia, known for their exquisite craftsmanship and stunning designs.
Traditional Jhumkas
Traditional Jhumkas are a classic and evergreen style of diamond earrings that have captivated the hearts of Asian women for generations. These earrings feature a bell-shaped design with intricate diamond or gemstone embellishments. Jhumkas are often crafted in gold, reflecting the rich cultural heritage of Asia. The ornate and detailed patterns make them a favorite choice for weddings, festivals, and other special occasions.
Chandbali Earrings
Chandbali earrings derive their name from the crescent moon shape they resemble. These earrings are characterized by a circular or crescent-shaped stud from which delicate chains or loops hang, adorned with diamonds and other precious gemstones. Chandbalis are known for their regal and glamorous appeal. They are frequently worn by brides and are considered a symbol of elegance and grandeur.
Floral-Inspired Diamond Studs
Diamond studs are a classic choice that never goes out of style. In Asia, floral-inspired diamond stud earrings are particularly sought after. These studs feature intricate designs resembling flowers, with diamond petals and a central stone. The delicate craftsmanship and sparkling diamonds create a feminine and graceful look, making them suitable for both formal and casual occasions.
Hoop Earrings With Diamond Accents
Hoop earrings have made a significant comeback in recent years, and Asian women have embraced this trend with a touch of sophistication. Hoops with diamond accents have become incredibly popular. These earrings feature a circular or semi-circular design adorned with small diamonds along the outer or inner surface of the hoop. The combination of sleek metal and dazzling diamonds adds a modern and glamorous touch to any outfit.
Diamond Chandelier Earrings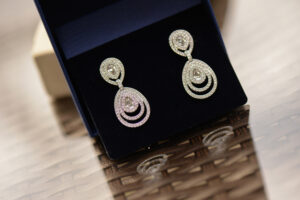 For those seeking a statement piece that exudes opulence, diamond chandelier earrings are the ultimate choice. These earrings feature cascading layers of diamonds that resemble a chandelier. The intricate designs, intricate metalwork, and the brilliance of the diamonds create a mesmerizing effect. Diamond chandelier earrings are often worn for grand events and occasions when one wants to make a bold fashion statement.
Contemporary Geometric Earrings
In recent years, there has been a rise in the demand for contemporary and geometric-inspired diamond earrings. These earrings feature clean lines, unique shapes, and innovative designs. From angular studs to asymmetric drops, these earrings offer a modern twist to traditional diamond jewelry. They are favored by those who appreciate minimalist and avant-garde styles.