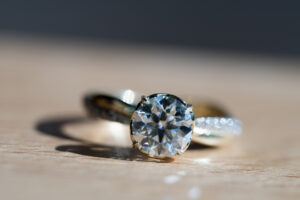 Colored metals are making a huge comeback in jewelry. They are now commonly used in engagement rings and other pieces of jewelry for the unique hue they can offer. A lot of people choose these metals to create a style statement. They are also popular among people who love vintage jewelry styles and designs.
While white metals like platinum and white gold compliment the stunning sparkle of diamonds, colored metals including rose and white gold can be used to bring a spectacular contrast to your jewelry. But when choosing natural or lab grown diamonds to set on colored metals, there are certain important factors you have to know to make the best choice. Therefore, we list some of the important things you have to consider when buying diamonds for yellow gold and rose gold.
Choosing Diamonds For Rose And Yellow Gold
Unlike white metals that offer a neutral look, rose and yellow gold comes with distinct hues that set them apart in jewelry. As these metals have a characteristic color, they can have a great impact on the appearance of the diamonds too. Hence, make sure to choose a diamond shape wisely to enhance the appeal of your jewelry.
Some diamond shapes can be exceptionally good for colored metals in comparison with others. For example, radiant and cushion-cut diamonds can be perfect for rose and yellow gold, as they reflect the color of these metals in a stunning way.
Also, you should take great care when choosing a color for your diamonds. Some colored diamonds can be especially good for colored metals. It is better to go for diamonds with contrasting colors when setting them on colored metals. For example, a yellow diamond set on yellow gold might not be a great option, as they will compete for the spotlight because of their similar yellow hues. Colored diamonds like blue and green can look stunning when set on yellow gold. Also, pink, green, purple, and blue diamonds can be perfect for rose gold.
Step Cut Diamonds
It is better to avoid some step-cut diamonds like emerald and Asscher for colored metals. These stones draw light from the bottom of the diamond which is set close to the metal. Hence, they will reflect the yellow or rose hues of colored metals which can reduce the brilliance and sparkle of these stones.
Before getting diamonds for colored metals, compare different stones to find out how they will look in the setting. This can help to find the best option that can be perfect for your colored metal.