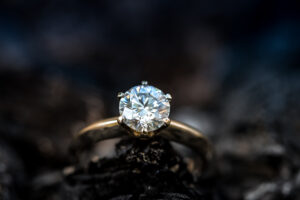 Lab-grown diamonds are created in carefully regulated lab settings utilizing advanced technical procedures. Actual carbon atoms are organized in the diamond crystal structure in these lab-grown diamonds.
Creation Of Lab Diamonds
Diamonds are produced in a lab setting from the diamond seeds. Advanced technology, such as extreme high pressure and heat or a special deposition technique called CVD, imitates the formation of natural diamonds in a lab setting. After being developed, some synthetic diamonds generated through deposition may be subjected to pressure and heat treatment.
In the same way that natural fancy-colored diamonds occur when minute amounts of particular trace elements are present during the growing period of the generated diamond, man-made fancy-colored diamonds do as well. The specific composition of trace elements in man-made diamonds, both white and fancy colored, may differ from that of natural diamonds. Only specialist technology capable of detecting minute changes in trace components and crystal development can identify a lab-grown diamond from a natural diamond.
Lab-Grown Diamonds And Diamond Simulants
Although diamond simulants like cubic zirconia and moissanite resemble diamonds, they are not real carbon crystals. Simulants lack the chemical and physical qualities of genuine diamonds, and so sell for a fraction of the price of lab-grown diamonds.
With a handheld diamond tester, you can tell the difference between natural and lab-grown diamonds based on their thermal conductivity characteristics. Because of their identical electrical conductivity, some lab-grown diamonds, as well as some natural colored diamonds, may be wrongly identified as moissanite when tested with specific diamond testers.
Benefits Of Lab-Grown Diamonds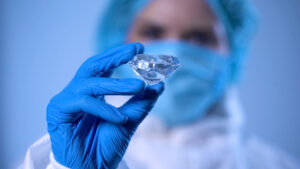 Conflicts and dubious ethical practices are widespread in diamond mines, hence lab-grown diamonds are a better option for people looking to buy ethical stones. Due to the carefully regulated environment and closely monitored process, lab-created diamonds are frequently of higher quality. One of the most significant benefits of lab-grown diamonds over natural diamonds is their lower cost.
In addition to that lab-grown diamonds have fewer flaws than natural diamonds. Therefore, you are getting a better-quality diamond ring at a lower price. One other benefit is that with advanced technology, we are now able to create colored diamonds that are very rare in nature. Chemical vapor deposition (CVD) is used to produce lab-grown diamonds, making it easier to meet up with demand without losing quality or engaging in damaging practices or disputes.