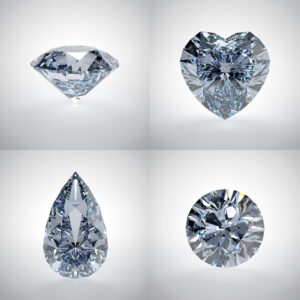 It is a great thing that more and more people are becoming conscious of the harm that we do to our environment. It is important for our planet that we adopt a sustainable lifestyle. When you choose an engagement ring, you have to make sure that it is eco-friendly because generally, diamond mining has many ecological consequences.
Here are some tips that will help you to buy an environmentally-friendly engagement ring.
Buy A Vintage Engagement Ring
Vintage engagement rings are, without a doubt, the most ethical and environmentally beneficial options. The benefit of vintage rings is that they are not new, so they do not contaminate the environment or add to the exploitation of diamond miners. Another significant advantage is that antique or used rings are sometimes distinctive and one-of-a-kind and they are often cheaper than a brand new ring. To discover the perfect engagement or wedding ring, search at thrift stores and reliable online retailers.
Choose Traceable Diamonds
If you want diamonds for your engagement ring but can't find a vintage diamond, your best bet is to look for the most ethically-sourced diamonds you could find. You'll be able to choose between lab-grown diamonds and mine-mined diamonds. When choosing your diamonds, inquire about the origins of your diamonds with your dealer. You should be able to locate the sources of each diamond in your engagement ring; ambiguous or confusing responses are a sure clue that your diamonds aren't as spotless as they appear.
Choose A Family Heirloom
You might have a treasured family heirloom that would make an ideal engagement ring hidden away! Choosing a ring that already has a place in your family's history is a lovely way of bringing families together and expressing your affection in a timeless manner that respects your ancestors. Many of you like the notion of using a family treasure, but not the setting. If this is the case, take your jewelry to a jeweler who specializes in resetting stones or repurposing precious metals.
Choose Recycled Metals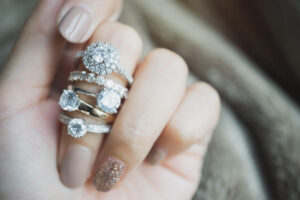 One of the most environmentally damaging industries on the planet is gold mining. Producing 20 tons of garbage for one engagement ring can relocate communities, taint drinking water, degrade land, and harm employees. Other metals, such as platinum, silver, and palladium, are also mined, and this has a negative impact on the environment. Choosing recycled metals for your engagement rings is the simplest method to avoid adding to this trash. If this isn't a possibility, use a resource like No Dirty Gold to find a shop that has taken measures to clean up its mining operations.